IRF Attends SportAccord's IF Forum
IRF President Joseph Jones, Secretary General Sue Liell-Cock and International Relations Chair Peter Micheler recently had the extreme honor and pleasure of joining with 383 other participants to attend the 15th edition of the International Federation (IF) Forum hosted by SportAccord. This exclusive 'by invitation only' event is held every year for global sports leaders who represent recognised international sport federations and the Olympics.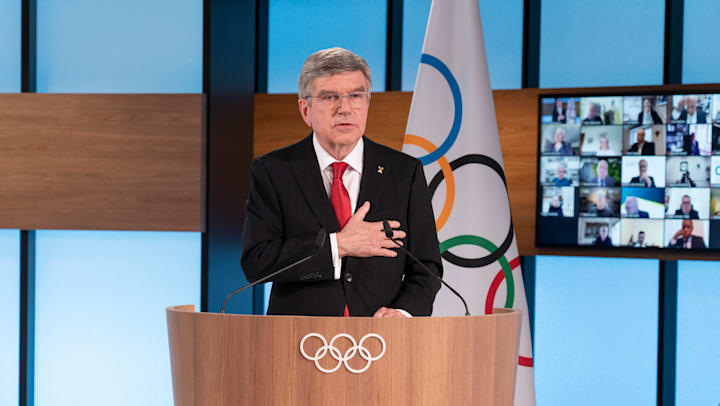 We were welcomed by International Olympic Committee (IOC) President Thomas Bach, and treated to an Opening Address from SportAccord & GAISF President Dr. Raffaele Chiulli. This year's theme 'Lessons We Are Learning from a Global Crisis and How Sport and Society Can Emerge Stronger' was an opportunity to share best practices and hear from international sport federations, athletes, sector visionaries, and academic leaders.  A Keynote Address was given by World Health Organisation (WHO) Director-General Dr. Tedros Adhanom Ghebreyesus who spoke about the important role that sport has had during the Covid-19 pandemic, and a memorable Member Keynote Address was delivered by former United Nations Secretary General, the Honorable H.E. Ban Ki-Moon who emphasised the important role that sport has in joining world societies together.
The Virtual IF Forum 2021 showed that the lessons we have all been learning during these very different times have had significant impacts, and being able to join each other in a virtual environment and have meaningful and constructive dialogue is essential in the recovery of sport post-Covid.
The subjects under discussion were "IFs return to competition"; Athlete mental health"; "Commercial approaches for IFs in the new normal" and "The virtual experience and its home within IFs" – and are all essential pillars in sports recovery.
The many new ideas, approaches, and innovations that were presented as well as the feedback from other IF's on some of their experiences and lessons they have learnt over the past year were informative and relevant. This stressed the importance of a collaborative approach and that we must all continue to learn from both our own experiences and each other.
The Forum finished off with the SportAccord 2021 Virtual Launch Celebration. This is a milestone occasion for the global sports movement as we gather for the SportAccord World Sport & Business Summit 2021 in Ekaterinburg, Russia (7-12 November 2021) in less than six months' time. Delegates will once again be able to gather in person and it will offer a unique opportunity to facilitate unity, friendship and building joint bridges for athletes and the future development of sport and that of society.
At the conclusion of the IF Forum, IRF President Jones offered these remarks:
"Over the last several years, the International Rafting Federation (IRF) has made enormous strides in gaining global recognition for our beautiful sport of rafting, and the IRF's invitation to join this event is a result of this work. We are delighted and excited by this opportunity to forge meaningful relationships with other international sport federations and the global sports networks provided by SportAccord, GAISF, AIMS, and the IOC. As the recognised global governing body for rafting, we will double our efforts to bring all rafting organisations together under one banner so that rafters around the world can benefit from the IRF's success in achieving this recognition."
The International Federation (IF) Forum
The IF Forum takes place annually and targets the specific needs of Olympic and International Sport Federations with a focus on sharing best practices and knowledge. The event is open to International Sports Federation members from ASOIF (Association of Summer Olympic International Federations), AIOWF (Association of International Olympic Winter Sports Federations), ARISF (Association of IOC Recognised International Sports Federations), AIMS (Alliance of Independent Recognised Members of Sport) and GAISF (Global Association of International Sports Federations) and its Associate Members.
In addition, the IF Forum receives the full support of the International Olympic Committee.
# WeAreIRF #StrongerTogether #RaftersAreAwesome #AreYouReady